TCSWAT 10th Anniversary Award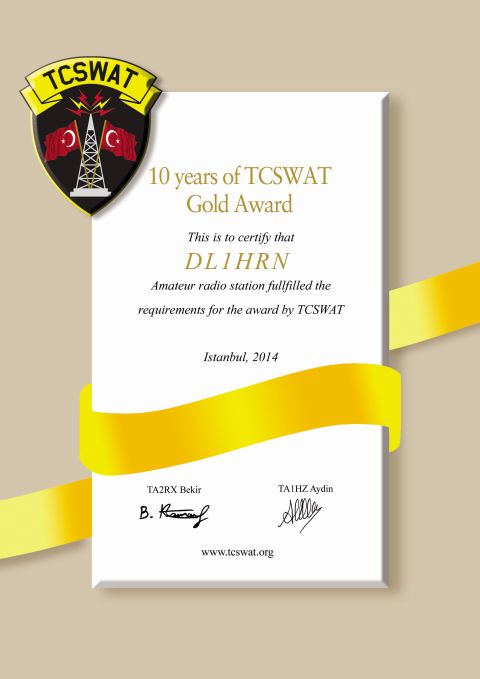 TCSWAT is proud to announce its 10th anniversary award winners!
As usual I have tabulated the winners list manually. So, if you are a winner and not listed below, please accept our sincere apologies and contact me with your log. I will check and add you immediately.
There were many hams who have contacted us in a single mode on five bands, one band less than required for an award. I felt really sorry for not being able to issue an award for these friends, because if we were one of the award chasers we would be in a similar position: Working in a single mode made things really difficult. I have to admit, all of our operators are mainly single mode (either cw or phone), although some of us work digital from time to time. So, I would like to congratulate all those who have managed to contact us on five bands. That was a great achievement folks!
As for the award winners, I would like to say a special "thank you" to DL1HRN, who has always been a dedicated follower of our special events. His 12 bands/modes achievement shows his dedication very cleary. Hope to see you again at the Messe, Juergen.
I would also like to thank TA1CM, Mehmet. He is the ONLY award winner from Turkey. I wish there were more Turkish hams active on HF bands. :(
Award winners, please bear in mind that I will be sending the awards in due time. They need to be prepared individually. So please be patient while I get them ready. In the meantime, please update your e-mail address at qrz.com (or send me a current one).
Many thanks again to all that have contacted us during our special events. Hope to meet you again on the air.
73!
de Bekir TA2RX
TCSWAT Awards Manager
GOLDEN

DL1HRN: 12 bands/modes
OK1APV: 11 bands/modes
R9XM: 11 bands/modes
DL1MDU: 10 bands/modes
G0JEI: 10 bands/modes
OK1AY: 10 bands/modes
CT1EDJ: 9 bands/modes
DH1PAL: 9 bands/modes
DK9QD: 9 bands/modes
DL1NKS: 9 bands/modes
DL3RHN: 9 bands/modes
DL9JON: 9 bands/modes
E77O: 9 bands/modes
S51AP: 9 bands/modes
DF3TE: 8 bands/modes
ES1IP: 8 bands/modes
ES2TT: 8 bands/modes
OH3GZ: 8 bands/modes
OK2PAY: 8 bands/modes
RA4UAT: 8 bands/modes
W1AW: 8 bands/modes

SILVER

DF5AN
DL1BYL
DL1SWN
DL1WH
DL4MNG
F4FLF
G4BUE
LY2C
OK1ANN
OK1KRJ
UA1CE
UT7AW

BRONZE

DJ8VC
DK4FP
DL1DTL
DL1SVI
DL2SWN
DL3NSM
EA2DT
EA2WD
EA5HT
EA7ST
EB5CS
F5IDJ
F5LMJ
F5UKW
HB9ELE
IK0CHU
IZ0COI
IZ1BII
LY2MM
PA3AKE
RA3LDP
RW3DKK
RX1CV
S54A
TA1CM
UA3GT9
UR4MF
UR5IRM
UY0CA
CW Mode Winner: UA1CE (7 bands)
SSB Mode Winner: DL1BYL (6 bands)
BPSK31 Mode Winner: F4DJM (3 bands)
FM Mode Winners: -

10m Band Winner: G0JEI (4 modes)
12m Band Winner: DK4FP, IZ1JKH, VE1DX (4 contacts in 2 modes)
15m Band Winner: ES2TT (3 modes)
17m Band Winner: DL2SWN, DL6ATM, LY2MM, RW6LZ (3 contacts in 2 modes)
20m Band Winner: DL1NKS (7 contacts in 2 modes)
30m Band Winner: -
40m Band Winner: UX5UW (4 contacts in 2 modes)
80m Band Winner: -
160m Band Winner:v -

To celebrate its 10th anniversary, TCSWAT will be working the special callsign TC10SWAT throughout 2014 and will be issuing a new award.
Stations will need to make a mininum of 8 contacts in different bands and/or modes to win the golden award.
Contacts in 7 different bands and/or modes will earn the silver award, and
Contacts in 6 different bands and/or modes will get a bronze award.
In addition, special awards will be issued to stations working the
Highest number of bands in each mode, and
Highest number of modes in each band.
However there will be only one winner for each of the additional awards.
If there are more than one stations with equal number of points for a specific band ore mode award, the station with the highest number of QSOs will get the award.

The award will normally be delivered by e-mail in pdf format in 2015 and there will be no charge for it.
If you prefer to receive it in paper format, then there will be a fee of 5 Euros to cover the costs.

Same rules apply to SWLs with one addition: No copy&paste qso info from dxcluster, please! You wil have many chances to hear us on the air, be patient and LISTEN!! DXCluster hunting is no good for eligibility!

Awards in pdf format will be sent to the winners' e-mail addresses recorded at qrz.com or tacallbook.org.
If your address in these sources are invalid, you are recommended to update it as soon as possible.
You can apply by sending an e-mail to ta2rx@tcswat.org or ta1hz@tcswat.org