BEKIR KEMAL ATAMAN'S HOME PAGE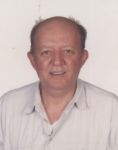 Bekir Kemal Ataman is a scholar in archives, records and information management, the first of its kind in Türkiye. His last position was Chair at Giresun University's Department of Business Management, until his retirement in 2015.

He is the de facto founder of the Department of Archives and Records Management at Marmara University, since he is the first staff employed there. He has also run several projects in this field as a consultant for both the private and public sectors, as well as NGOs.

He has published the bimonthly Archimedia, the first archives and records management journal in this country for about five years almost without interruption.

He was also the founder of ArchiTurk, the only mailing list on archives and records management in Türkiye/Turkish, at the time.

He is known to be an Apple Macintosh enthusiast and active member of the Apple User Groups in Türkiye. He has founded ArchiMac BBS, the first Mac BBS in this country with a network connection and the first on earth to serve the archives and records management profession.

In his spare time he works as a search and rescue volunteer specializing in disaster and emergency communications (he is a CEPT Class I licensed radio amateur with the callsign TA2RX) He is one of the few specialists in this field in Turkey.

If you would like to read more about what he has achieved, you can find the details in his Narratus Vitae.
---
In Curriculum Vitae, Go to page: Introduction | Contact | Education | Employment | Projects | Books | Articles | Papers | Interests | MWArticles | Hobbies | Miscellaneous | Photos
In Narratus Vitae, Go to page: Introduction | Archives | Records Management | Business Management | Computers | Research | Publishing | Teaching | History | Public Relations | Medicine | Hobbies | Disaster Preparedness |